Looking ahead to Bolton Wanderers' clash with Birmingham City in the Sky Bet Championship tomorrow evening, bwfc.co.uk looks back in history at a hof the players who have played on both sides of the fixture.
Will Buckley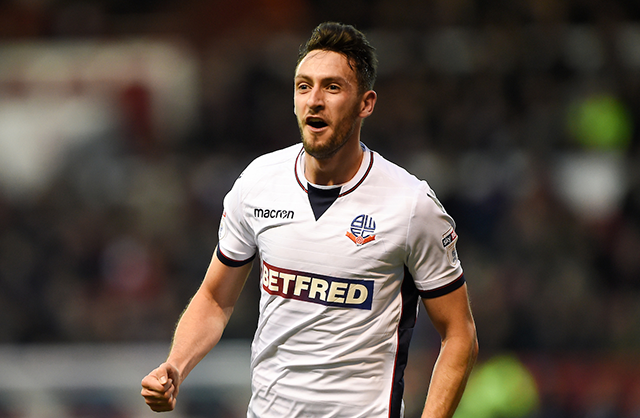 Current Wanderers midfielder had a brief spell at St. Andrew's in the 2015/16 season. 
In his ten appearances for the club, Buckley scored one goal and played against the Whites for Birmingham.
In that game, current Wanderers striker Clayton Donaldson was the difference maker for the Blues, scoring on the half hour mark in a 1-0 defeat. 
Buckley signed for Phil Parkinson's side in June 2017 and has played his part this season, scoring three goals from 23 appearances.
Fabrice Muamba
The former England U21 international joined Birmingham City in 2006 on an initial season long loan, which then turned into a permanent deal the following season for a reported £4million.
During his time in the Midlands, Muamba made 79 appearances and scored two goals.
From here, Muamba signed for Bolton in June 2008 on a four-year deal for a reported fee of £5million. 
In his four year stay in BL6, Muamba made over a century of appearances for Wanderers, which included a lengthy run in the FA Cup semi-final in 2010/11. 
Muamba's career was cut short in the end, when he collapsed during an FA Cup quarter-final clash against Tottenham Hotspur. 
This forced the midfielder to retire from professional football and take up a career in media.
Bruno N'Gotty
Former French international N'Gotty joined the Whites on an initial loan deal back in September 2001.
This became permanent in January of that season and he made over 150 appearances for then manager Sam Allardyce's team.
N'Gotty was part of the squad that qualified for the UEFA Cup for the first time in Wanderers history in 2005/06.
Neil Whatmore
A club legend in the 1970s, Whatmore became a cult hero for the club.
With 338 appearances and 121 goals to his name during his two stints at the club, Whatmore was Bolton's top goal scorer in the 1977/78 Division Two title winning side, with 19 goals in 42 league games. 
The forward joined Birmingham City in 1981 and spent two years at club, where he spent two seasons with the Blues.
John Sheridan 
Sheridan joined Birmingham on loan from Sheffield Wednesday for a short loan spell from February to November in 1996.
He had a four-match spell in the Autumn time under Trevor Francis that season, before joining Bolton Wanderers in November that season.
The former Republic of Ireland international spent two years at the club, in which time he was a part of the squad that won the Football League First Division in 1996/97.
Frank Worthington
Scorer of one of the goals of the 1970s during his time at Wanderers, Worthington spent two years with the club (1977-1979). 
In his second season, Worthington to the honour of leading goal scorer in the First Division, firing home 24 goals in 42 games.
After a brief spell in the states with Philadelphia Fury on loan, the frontman joined Birmingham City and spent three years there.
The former England international was involved in the Blues Second Division promotion in the 1979/80 season, where they finished third.
Bob Hatton
Hull born centre forward Hatton only spent one season with Bolton in the 1967/68 season. 
However, during his time with tomorrow's opposition, Hatton made a real name for himself. 
In a five-year tenure with the Blues, Hatton won promotion to the First Divison in in his first season in 1971/72, as well as finishing top goal scorer for the club in successive seasons from 1972 to 1974. 
Over his whole career, Hatton has the impressive feat of scoring at a rate better than one goal in every three matches. 
Trevor Morgan
Morgan joined Bolton in 1987 from Bristol City, coming off the back of aiding them to promotion from the Third Division. 
The forward's two season stay with the club was one capped off by winning the Associate Members Cup in 1988/89, where Morgan scored the third in a 4-1 victory over Torquay United.
His time at Birmingham was very brief at the twilight of his career, spending just one season with them after returning back to England from Hong Kong side, South China.
Morgan currently manages the Bhutan national team, taking the role on in February.
Clayton Donaldson
The Jamaican international and current Wanderers target man joined the club this season on a one-year contract back in June of this year.
Before that, Donaldson has spent time all over England in his 16-year career.
He spent three years at St. Andrew's (2014-2017), where he made over 100 appearances for the Midlands club.
Back in 2016, Donaldson was the difference maker for Birmingham when both sides met at St Andrew's, with his sole goal earning City all three points.  
Let's hope he can produce the goods for the Whites if selected this time around!
Jonathan Grounds
The full back joined on loan from Birmingham City this season in August.
He made his Whites debut in the Carabao Cup first round against Leeds United, where he played 75 minutes.
Back in 2014, Grounds signed for the Blues as then manager Lee Clark's first signing after his contract at Oldham Athletic expired.
He has spent four seasons with them so far, making well over 100 appearances.
Lukas Jutkiewicz 
The striker has been contracted to Birmingham City since 2017, after an initial loan spell from Burnley the season prior, where he impressed with his performances. 
Back in 2014, Wanderers signed Jutkiewicz from Middlesbrough in latter half of the 2013/14 season.
In 20 appearances at the University of Bolton Stadium, he scored seven goals and was joint top scorer with André Moritz and Jermaine Beckford.