Boss Ian Evatt was happy to see Wanderers avoid a Carabao Cup upset and book their place in round two with victory over Barrow.
The Whites dominated throughout but needed Zac Ashworth's first senior goal to earn them a 1-0 win over the League Two side.
Wanderers will now be in Wednesday night's draw as they completed a successful first four days of the season by making it back-to-back home wins.
"We shouldn't take progression for granted. You've seen some strange results tonight and big shocks, so we're delighted to get through to the next round," said Evatt.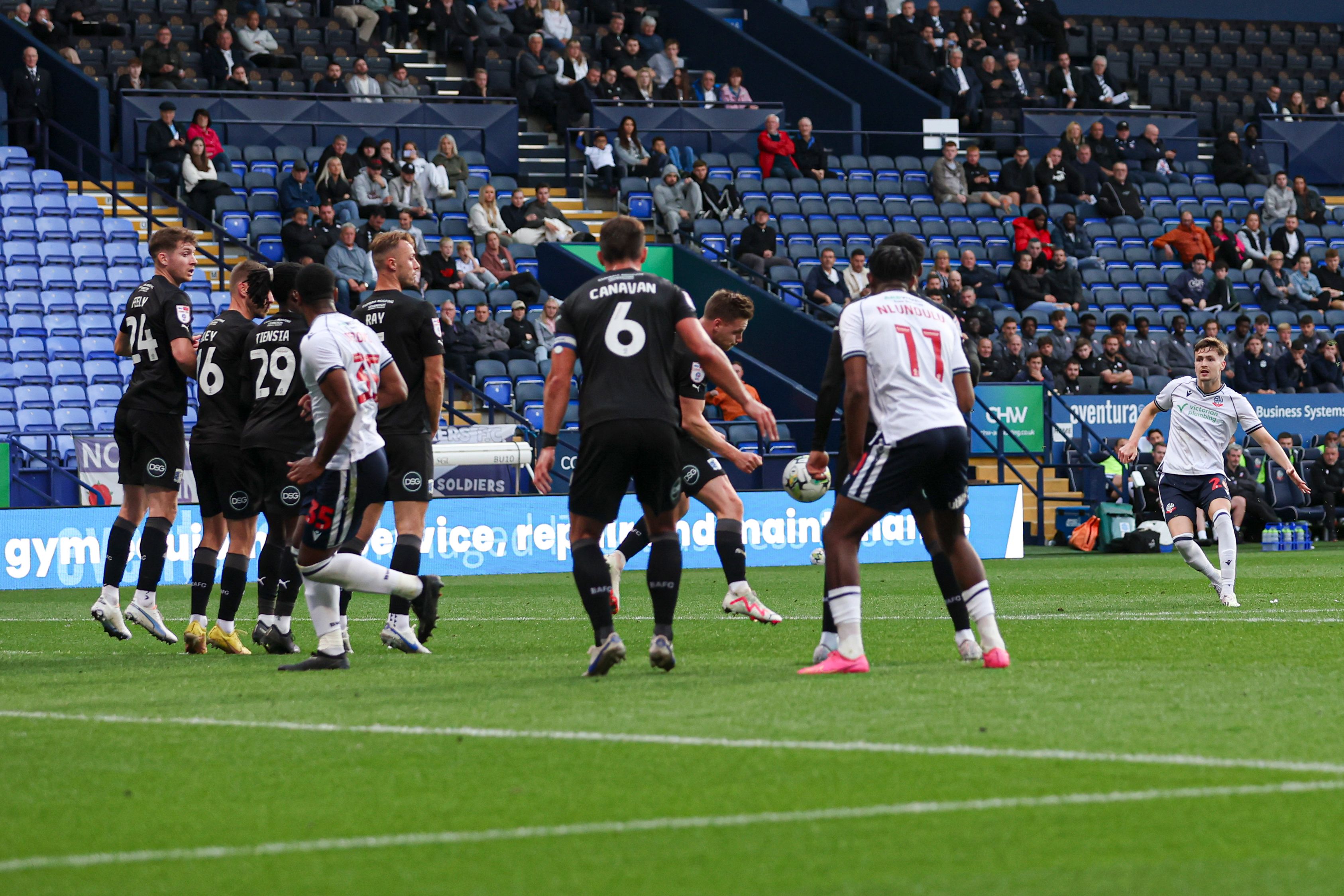 "Overall, I thought it was comfortable, but great credit to them. They managed to stay in the game, they made it really tough and difficult for us with a lot of bodies behind the ball.
"And while they are still in the game they've got that last-minute push where anything can happen.
"But it's another win and another clean sheet. That's two wins, four goals, clean sheets. Lots to be positive about but it's only just a start.
"I'm really pleased with the victory given how difficult they made it for us. We're in the hat and we can focus fully on Cheltenham now on Saturday and try and replicate another good performance."
After a bright start and a handful of early chances, Wanderers were presented with a wall of black shirts to try and by-pass to find a route to goal.
"I'm really pleased with the victory given how difficult they made it for us.
Evatt admitted his side needs to be more ruthless but was delighted to see loanee Ashworth get off the mark with a perfectly placed free-kick just before the break.
"We were completely dominant in possession but maybe just not productive enough in the second half," added the Wanderers' boss, who made eight changes to the side that started Saturday's league win over Lincoln.
"We got back into the habit, especially around the box, of not taking shots and not putting the ball into good areas. We worked our way up there really well but when there are so many bodies behind the ball it's then about the detail.
"When we got to the final third we just looked a bit ponderous and slow at times, not instinctive like we were on Saturday. However, it's so difficult when there's limited space.
"I'm pleased for Zac to get the goal. I think he took that really well. Carlos (Mendes Gomes) and Paris (Maghoma) will improve for that experience. Again, they're still getting to know us and their fitness levels are still improving week-on-week.
"Again, we saw flashes from them and all-in-all I'm pleased to get through with no injuries. The squad is getting stronger all the time. There were some good home debuts, some good performances and again it's just continuing to strive and be better and improve."